About Us
Dixons Surgical Instruments Ltd is a leading UK manufacturer of Surgical and Orthopaedic Instruments. We specialise in the manufacture of Precision Medical Devices and can offer a full service from Design, through Prototyping and on to Full Production Runs.
We are able to supply everything from a single component or device through to a full set of instrumentation, including cases and trays as required.
Our Surgical and Orthopaedic Instruments are manufactured at our Wickford factory using a combination of the latest CNC controlled machines, along with the manual skills of our experienced craftsmen. This approach enables us to make Surgical and Orthopaedic Instruments in the most accurate and efficient way possible whilst still retaining that finishing touch required for truly excellent instruments.
The company currently employs a workforce of 22 people.
History
Dixons Surgical Instruments Ltd was founded in November 1948 by Frank Dixon in Caledonian Road, London. It's aim was to supply the major UK Trade Houses with high quality surgical instruments. A second factory was opened in 1956 in Leigh-On-Sea, Essex. A few years later all operations were moved to this site.

Frank Dixon
Frank's son, John Dixon, joined the company in 1960 and trained in all aspects of the business. On the death of his Father in 1979, John took over as Managing Director. He was joined shortly after by his wife, Joan Dixon, who became the Financial Director.
The company steadily expanded over the years and in 1989 it became necessary to move from the site in Leigh-On-Sea to larger premises. A purpose built factory of 8000sq.ft. (800 sq.m) was erected in Wickford, Essex, approximately 30 miles (50 Km) east of London.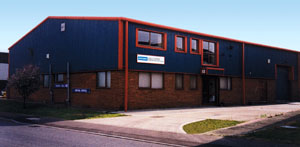 Roman Court - Wickford, Essex, UK
John and Joan's son, Jay Dixon, joined the company in 1990 and carried out a 5 year apprenticeship as a Surgical Instrument Maker. He then followed in his Fathers footsteps by training in all other aspects of the business, becoming Technical Director in 2004.
In 1990 an opportunity to break into the scientific market arose when Dixons purchased the exclusive manufacturing rights to the range of portable autoclaves marketed under the 'Express' brand. These autoclaves have been known over the years as 'The Arnolds Autoclave', 'The Portable Autoclave', 'The HM&S Autoclave' and 'The Macarthy Autoclave'. These autoclaves were previously manufactured by Arnold & Sons, Basildon (owned by the McCarthy Group). On the closure of the Basildon operation, seven of their top skilled instrument makers joined Dixons. Their skills included ENT, Ophthalmic, Orthopaedic and Neurosurgical instruments.
Again in 1994 Dixons Surgical extended their range to include operating table accessories.
In 2006 the surgical instrument range was extended to include reusable needles which had previously been manufactured by Bignell Surgical.
In 2010 Jay Dixon was appointed Managing Director, while John Dixon moved into the role of Chairman. Joan Dixon continues to be the Financial Director.
Timeline
1948
Company formed in Caledonian Road - London
1960
John P Dixon joins the company
1979
John P Dixon becomes Managing Director
1989
Move to Roman Court - Wickford
1990
Jay Dixon joins the company
1990
Purchase manufacturing rights to 'Express' range of Portable Autoclaves
1993
Gain accreditation to BS 5750
1994
Manufacture of Operating Table Accessories begins
1998
Purchase first Laser Marker
1998
Launch of 'Dixons' brand Surgical Instruments
2006
Take over range of reusable needles from Bignell Surgical
2010
Jay Dixon becomes Managing Director