Services - Contract Manufacturing
We have been Contract Manufacturing Surgical Instruments since the formation of the company in 1948. We can work (and have worked) to pretty much anything, from physical samples, to hand drawn sketches and photocopies, through to full 3D CAD models and engineering drawings. We are a major Contract Manufacturer to the majority of the British Surgical Instrument industry, and increasingly the Orthopaedic Instrument industry worldwide.
We are able to supply any of our standard range of Surgical Instruments on an OEM basis, and can provide a fully finished, laser marked, and packed product ready for you to sell. We are able to laser mark the instruments with whatever information you require - i.e. brand name, product code, etc.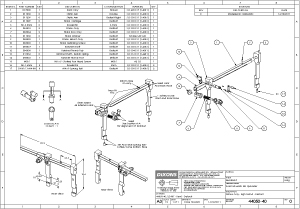 Engineering Drawing
We are equally able to manufacture to your supplied CAD models and Engineering Drawings. We have been evolving over the last few years, to specialise in the Contract Manufacture of bespoke Orthopaedic Instrumentation. We are able to offer everything from prototyping through to production of low to high volume batches. We are also able to offer a stock holding service for regular lines, to help shorten lead times.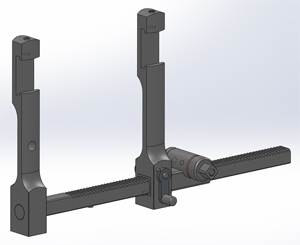 SolidWorks 3D CAD Model
We make extensive use of SolidWorks 3D CAD in our design and manufacturing processes, coupled with SolidCAM to power our CNC machinery from our 3D CAD models. We can offer a design assistance service to turn your ideas and sketches into 3D CAD models and full engineering drawings.
What sets us apart, is the decades of experience we have had hand crafting Surgical Instruments. This knowledgebase of traditional hand skills, combined with our modern CNC engineering capabilities, allows us to choose the best methods to apply to each product to achieve exactly the results our customers require. It's the seamless blending of tradition with modernity that marks us out amongst our peers.