News
December 2013
OMP400 On Machine Probing System Ordered From Renishaw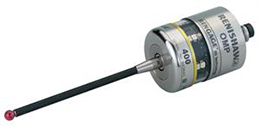 To further enhance the accuracy of our machining capability, and to speed up setting, we have placed an order with Renishaw for a new OMP400 High Accuracy On Machine Probing System to be retrofitted to our Mazak VCN 410A-II CNC Vertical Machining Centre.
We are having the system supplied with Renishaw's Inspection Plus software. This software provides an integrated package of macros which allows programming of the Probe cycles from within our CNC programs.
We expect to take delivery of the system in January 2014.